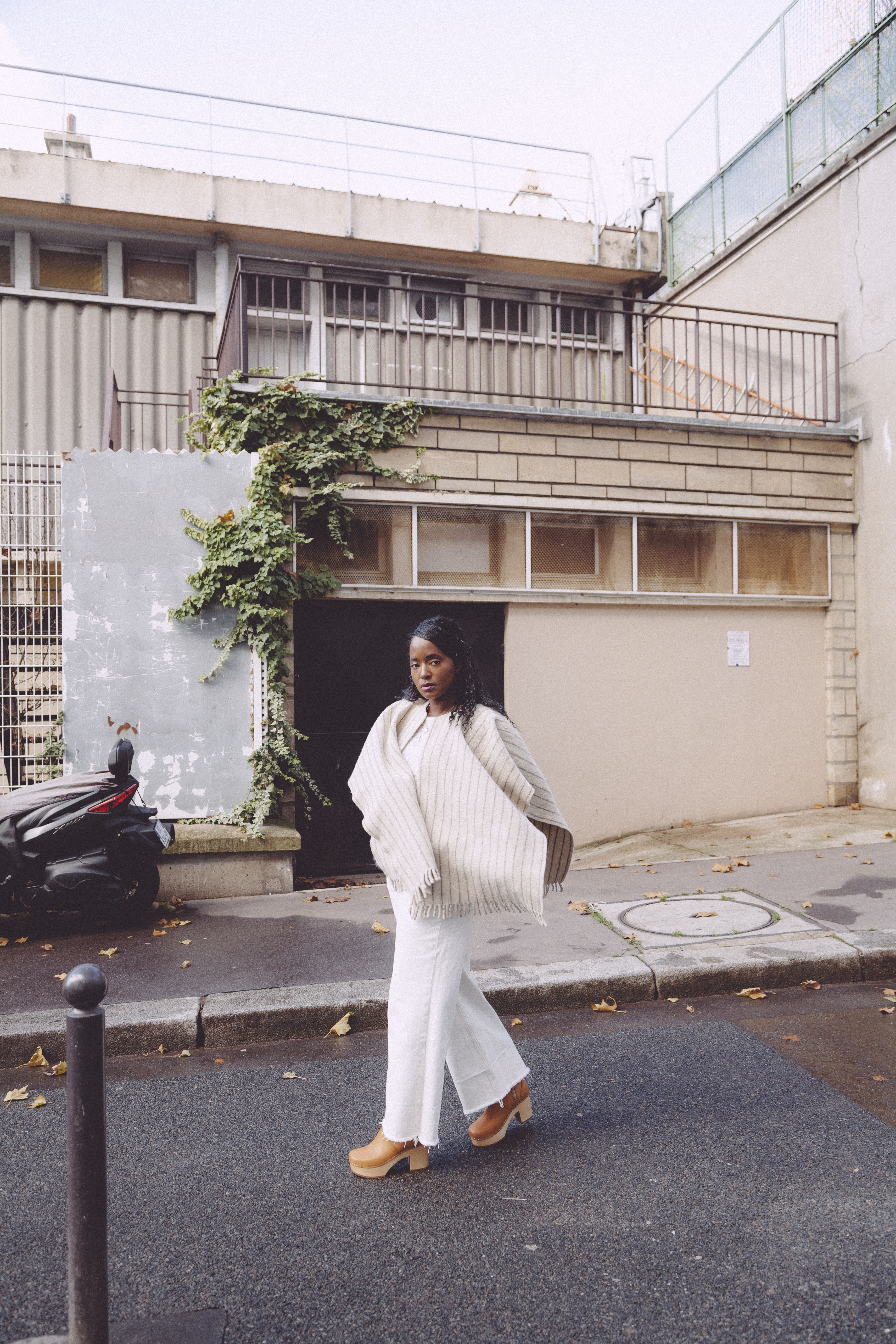 Bénissez les dieux du Net, car je vous ai épargné le titre pas du tout cul-cul cliché « cape ou pas cape », ah!

D'ailleurs cette cape, vintage, évidemment, vient de chez Boheme Goods, forcément, dont je vous ai parlé un milliard de fois sur le blog.
La matière, la coupe, elle est juste incroyable!
Bon et sinon, bah voilà, on est déjà fin décembre, et qui dit fin de l'année, dit heure des bilans en tout genre, que ce soit à la TV, dans les journaux ou sur les réseaux sociaux. Les bilans, c'est carrément le genre de chose que j'adore détester. Je trouve ça assez surfait/un peu trop mélodramatique parfois, notamment sur Instagram. Mais j'adore en même temps car ça permet de faire un travail de réflexion et d'introspection bien souvent nécessaire.
Alors puisque j'en parle, autant y aller franchement et vous faire un mini-bilan de cette année, d'un point de vue mode, étant donné que je vous présente un de mes derniers looks de l'année.
Pour ma part, 2018, aura été le symbole de fracture entre moi et la mode dite fast-fashion. Alors oui, j'ai craqué parfois, je continuerais surement encore quelques fois en 2019, mais tant que le coup de coeur n'est pas éphémère et que j'apprécie VRAIMENT ces pièces cela me va; mais ce dont je suis fière, c'est que je n'ai jamais autant soutenu de petites marques aux valeurs éthiques que cette année. Parmi elles, Abysse, Random Chic, Vitamin A, Boheme Goods, Posse, Wander and About, Courtyard LA, Coral Gardeners, NaNin Vintage, Soleil Collective, et j'en passe. Un soutien qui s'est traduit soit par l'achat de pièces ou bien par le fait de parler d'eux autour de moi, de les soutenir dans leurs actions, leurs posts Instagram…
Je ne vous referais pas de topo autour des méfaits de la mode mass-market, vous pouvez relire ce post ici, ni des nombreux bénéfices de la mode vintage, ici.
Globalement ce que je dirais c'est que me tourner vers ce nouveau mode de consommation m'a permis de mieux affirmer mon style et mes préférences. Je me sens plus moi, moins esclave des tendances modes ultra-éphémères, et ça fait du bien! Vraiment.
Et vous, quel est votre bilan mode pour cette année?
De quoi êtes-vous le plus fière? Une affirmation de votre style? Une pièce de créateur dénichée à prix d'or?
Xx
// Okay, so this gorgeous vintage cape worn in probably one of my last 2018 outfits is from Boheme Goods! I've talked to you quite a lot about Boheme right? It's one of my favorite online vintage shops out there.
Can't believe it's already the end of December and the end of the year. This also means we will be thrown at lots and lots of different throwbacks, coming from all kind of different sources. Throwbacks are usually something I like to dislike. I tend to find that a little bit too cheesy at time, especially on Instagram. But at the same time it's a good way to find out how much you have grown this past year, the highlights of it. So this is nice in a way.
If I were to make my 2018 fashion throwback from this year right now (of course fashion, it's an outfit look!) I would say that I am beyond proud of myself for having supported so many small businesses. Businesses run by all kind of different women (Blacks, mums…), businesses that have ethics and care about our planet. I could mention Abysse, Random Chic, Vitamin A, Boheme Goods, Posse, Wander and About, Courtyard LA, Coral Gardeners, NaNin Vintage, Soleil Collective, among many of them. My support takes form into buying from them, but also talking about them, following them, commenting, liking their pics. Small acts that show « yes I care about what you do and support you ».
I am beyond thrilled to have ditch a bit the highly polluting world of fast-fashion. I'm not saying that I didn't buy any item from it, and that I won't in 2019, just that the item I purchased myself, I deeply care about them. It was not a randomly made act, just because the item is trendy or because I'm bored therefore I shop. No, it was made consciously. And this is also what matters the most if you'll ask me.
This new way of consuming helped me define my own looks; to me this is what vintage does to one. It helps you get in touch with your own personal style, far away from what you see everywhere on everyone at one defined period of time. You're being you with unique clothes.
What about you? What is your 2018 fashion Throwback? What are you most proud of from this year?
Tell me,
Xx
Le look:
Cape (Vintage): Boheme Goods (similaire ici)
Pull: American Vintage (old) (similaire ici)
Jean: Abercrombie and Fitch (similaire ici et ici)
Shoes: Swedish Hasbeens
Plus d'inspi:
Photos: Mariposa