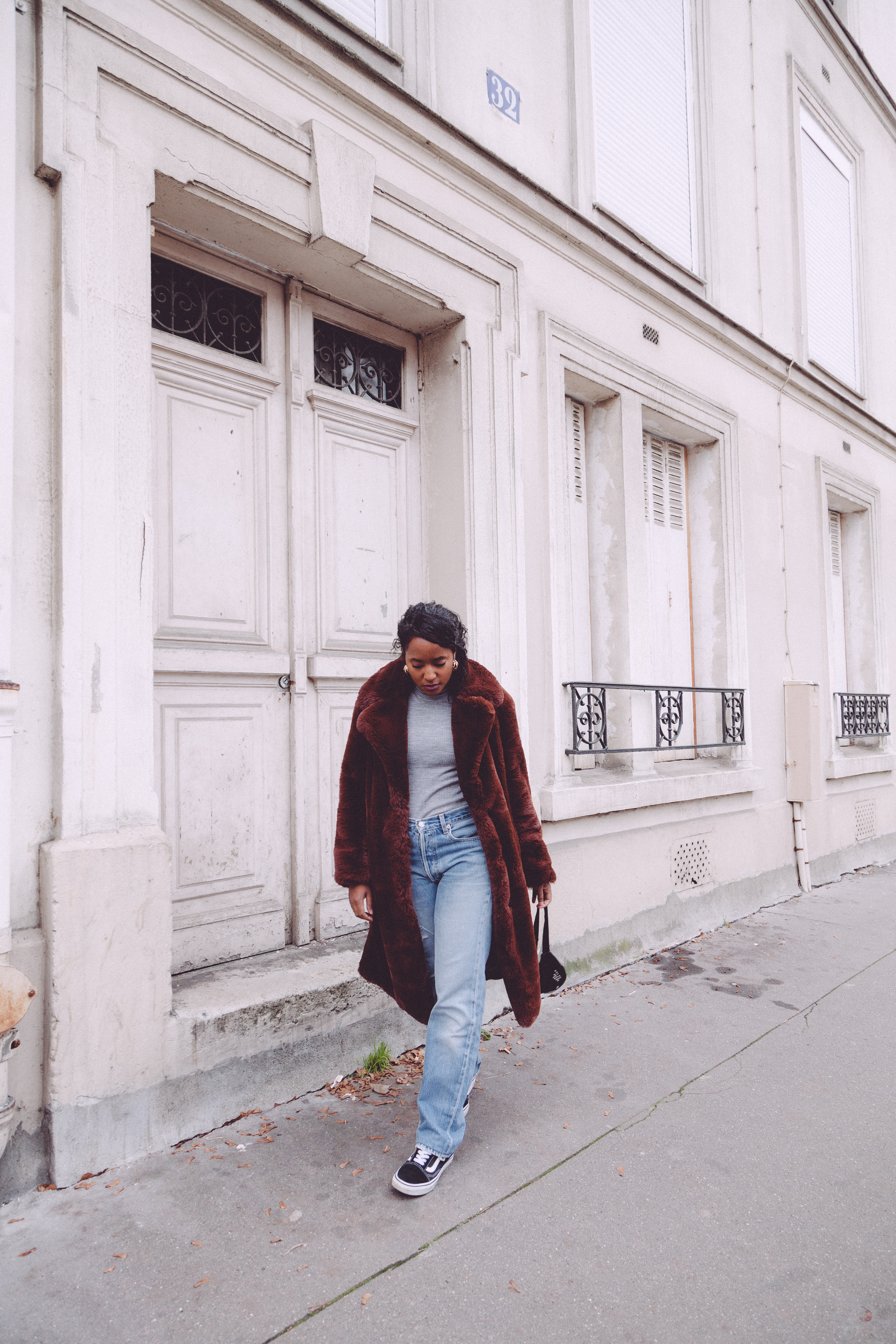 « Confort » c'est le mot que je choisirai s'il fallait que je définisse ce look.
Un terme que je revendique haut et fort comme étant 100% moi! Et pourtant, pendant longtemps, j'étais persuadée que « confort » c'était le rendu à éviter, encore plus quand on a un blog mode.

Je m'étais mise en tête que ce n'était pas intéressant/inspirant/digne d'être photographié et mis en avant sur une plateforme en ligne. Il faut dire qu'il n'y a pas encore si longtemps, les looks avant-gardistes, originaux, chics et couture étaient légions; du color-block à profusion, des mélanges de matières et de formes plus qu'improbables. Il ne fallait pas montrer véritablement ses tenues de tous les jours, bien que le terme soit « outfit of the day », mais des tendances et limite donner l'impression d'aller à une Fashion Week.
Du coup, porter un pull et un jean ça n'avait rien de bien transcendant dans le monde du blogging.
Alors des fois, j'avais cette sale manie de photographier mes looks avec un petit truc en plus, un truc qui passerait bien dans une Fashion Week. Une pièce « version moi améliorée pour le blog ».
Souvent c'était une paire de chaussures un peu extravagante à talons hyper hauts, alors que dans la vraie vie le look aurait été le même, mais à plat.
Je dis « avant » mais surement que maintenant encore il faut avoir l'air carnavalesque pour bien passer dans le monde des réseaux sociaux. Mais je dis « avant » parce qu'en vrai maintenant, je m'en fous! Je ne suis plus les pseudos règles implicitement éditées par une majorité. Je ne souhaite plus faire partie du mood global, qui glorifie bien souvent des marques de fast-fashion.
Depuis, j'achète majoritairement vintage ou éthique; oui toujours un peu de fast-fashion mais carrément moins qu'avant!
Et c'est en me détachant de tout ça que je me suis finalement rendue compte que « confort » était tout simplement la véritable définition de mon style. Je ne suis pas glamour, tendance ou spécialement pointue; non moi je suis laid-back, confort.
Plus de simplicité, moins de sophistication; plus d'oversize, moins de ce qui est étriqué; plus de style, moins de tendances.
Ah et puis, évidemment, plus de VINTAGE!
Alors donnez-moi un jean Levi's 501 vieux d'il y a 30 ans, une banane customisée de 10 ans de moins, une paire de baskets et boom! Un look de tous les jours que je choisis d'immortaliser.
Parce que c'est moi, mon style, mon confort, ma routine. Aussi simple que ça.
Xx
// Comfort is the word I'll choose if I had to define this look. It's a word that defines me 100%. Crazy to think that for long I thought that comfort/laid-back was the outcome I had to avoid, especially when sharing my outfits online.
I was convinced that it was not interesting/inspiring/worth being photographed and shared.
Maybe because not so long ago, couture, super chic and edgy outfits were all you could see. And when you arrive in this blogging world, you get to think that your style being just the way it is, is not enough.
So from time to time I used to vamp-up my OOTDs a bit. I would wear some high-heel shoes, while in my everyday life the outfit would have been the same except with flats.
But all of this is so yesterday!
Today I really don't care about it. I do my stuff and wear what I want the way I want it. I do not care as much as before about trends and Fashion Weeks. I do not wish to be part of these fast-fading worlds. This is all due to me growing-up of course, and gaining more confidence but it has a lot to do too with shopping vintage too.
Since I started to value vintage so much something in my mind has shifted. I realized that comfort is simply just my style. The style I am always dragged to no matter what. I am not glamorous, nor chic, I am comfy. Period.
Less sophistication, more simplicity; less skinny, more oversized; less trends, more style. And of course more vintage!
So give me a 30-year-old pair of Levi's jeans, a 20 year-old bum bag, a pair of sneakers and let me call it my #OOTD. The most comfy one, the most used one. As simple as that.
Xx
Le look:
Manteau: Mango (similaire ici)
Pull: Uniqlo 
Jean: Levi's vintage (similaire ici et ici)
Banane: Vintage (similaire ici et ici)
Baskets: Vans (similaires ici et ici)
Plus d'inspi:
Photos: Mariposa Photographe