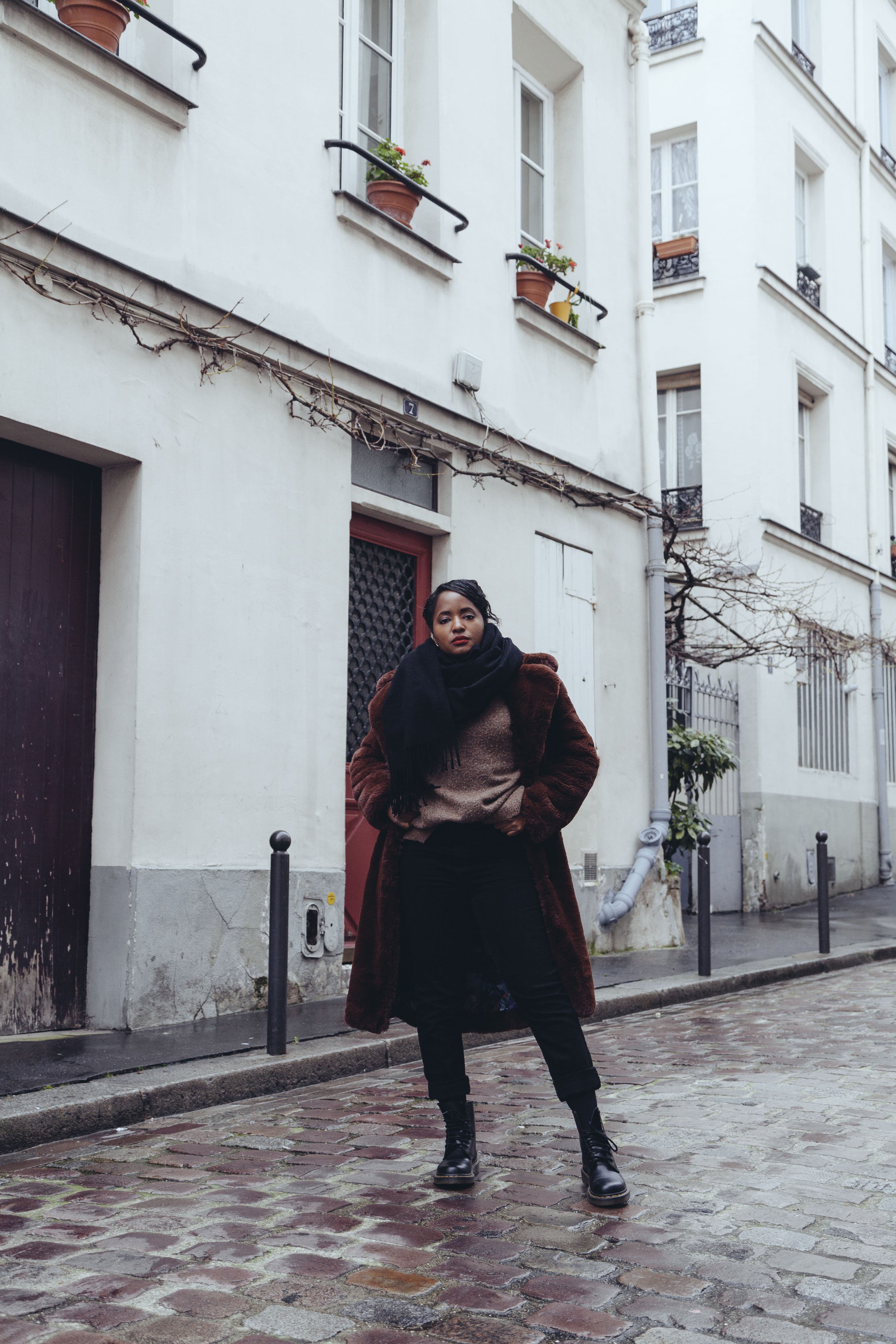 Mois de mars.
Le mois où on se prend véritablement à rêver de journées plus longues.
À rêver de températures plus douces, de tenues plus légères et globalement à plus de couleur.
Bref on a envie de printemps, et par chance, celui qui figure on top of the wishlist, arrive officiellement le 20.
Mais en attendant les réjouissances, c'est giboulées et froid qui continuent à nous régaler.
 Un « problème » qui se règle selon moi avec plusieurs options:
1. Un manteau fausse fourrure
2. Une paire de Dr Martens
3. Une parka Rains
4. Un bob, ou encore
5. Un parapluie trop trop mignon.
Pour ce look, j'ai opté pour les deux premières.
Niveau colorama, oui la tenue est assez dark. Une ambiance qui tranche grandement avec les pièces printanières que je peux chiner en ce moment.
Le rose étant clairement mon obsession en ce moment! D'ailleurs, vous aurez le temps de voir ça bien assez vite, sur Insta et/ou ici.
Xx
Le look:
Manteau: Mango (sold out)
Echarpe: Weekday
Pull: Asos (similaire ici)
Jean: Asos
Chaussures: Dr Martens
Plus d'inspi:
900
128
ffffff
100
1
e0e0e0
normal
true
false
horizontal
ffffff
0
0
e0e0e0
10
10
0
10
0
0
0
0
0
label
linear
true
false
false
bottom/right
5
808080
e0e0e0
true
1
600
http://lescarnetsdaurelia.com/wp-content/plugins/dopts/assets/gui/images/ThumbnailsPrev.png
http://lescarnetsdaurelia.com/wp-content/plugins/dopts/assets/gui/images/ThumbnailsPrevHover.png
http://lescarnetsdaurelia.com/wp-content/plugins/dopts/assets/gui/images/ThumbnailsPrevDisabled.png
http://lescarnetsdaurelia.com/wp-content/plugins/dopts/assets/gui/images/ThumbnailsNext.png
http://lescarnetsdaurelia.com/wp-content/plugins/dopts/assets/gui/images/ThumbnailsNextHover.png
http://lescarnetsdaurelia.com/wp-content/plugins/dopts/assets/gui/images/ThumbnailsNextDisabled.png
http://lescarnetsdaurelia.com/wp-content/plugins/dopts/assets/gui/images/ThumbnailLoader.gif
100
100
100
100
f1f1f1
f1f1f1
1
d0d0d0
303030
2
2
2
2
true
600
ffffff
80
http://lescarnetsdaurelia.com/wp-content/plugins/dopts/assets/gui/images/LightboxLoader.gif
ffffff
100
1
e0e0e0
999999
30
30
30
30
10
10
10
10
http://lescarnetsdaurelia.com/wp-content/plugins/dopts/assets/gui/images/LightboxPrev.png
http://lescarnetsdaurelia.com/wp-content/plugins/dopts/assets/gui/images/LightboxPrevHover.png
http://lescarnetsdaurelia.com/wp-content/plugins/dopts/assets/gui/images/LightboxNext.png
http://lescarnetsdaurelia.com/wp-content/plugins/dopts/assets/gui/images/LightboxNextHover.png
http://lescarnetsdaurelia.com/wp-content/plugins/dopts/assets/gui/images/LightboxClose.png
http://lescarnetsdaurelia.com/wp-content/plugins/dopts/assets/gui/images/LightboxCloseHover.png
ffffff
c0c0c0
600
true
false
http://lescarnetsdaurelia.com/wp-content/plugins/dopts/assets/gui/images/SocialShareLightbox.png
ffffff
000000
000000
bottom
false
50
000000
80
ffffff
false
5000
false
http://tidd.ly/65a2dd05

_blank

http://tidd.ly/5a77b142

_blank

http://tidd.ly/6067a78a

_blank

http://tidd.ly/d13c37b2

_blank

http://tidd.ly/c28514fa

_blank

http://amzn.to/2GsJGCB

_blank

http://tidd.ly/fe39d3a9

_blank

http://tidd.ly/f795bb78

_blank

http://tidd.ly/17f03e7

_blank

http://tidd.ly/a7f98965

_blank
Photos: Mariposa