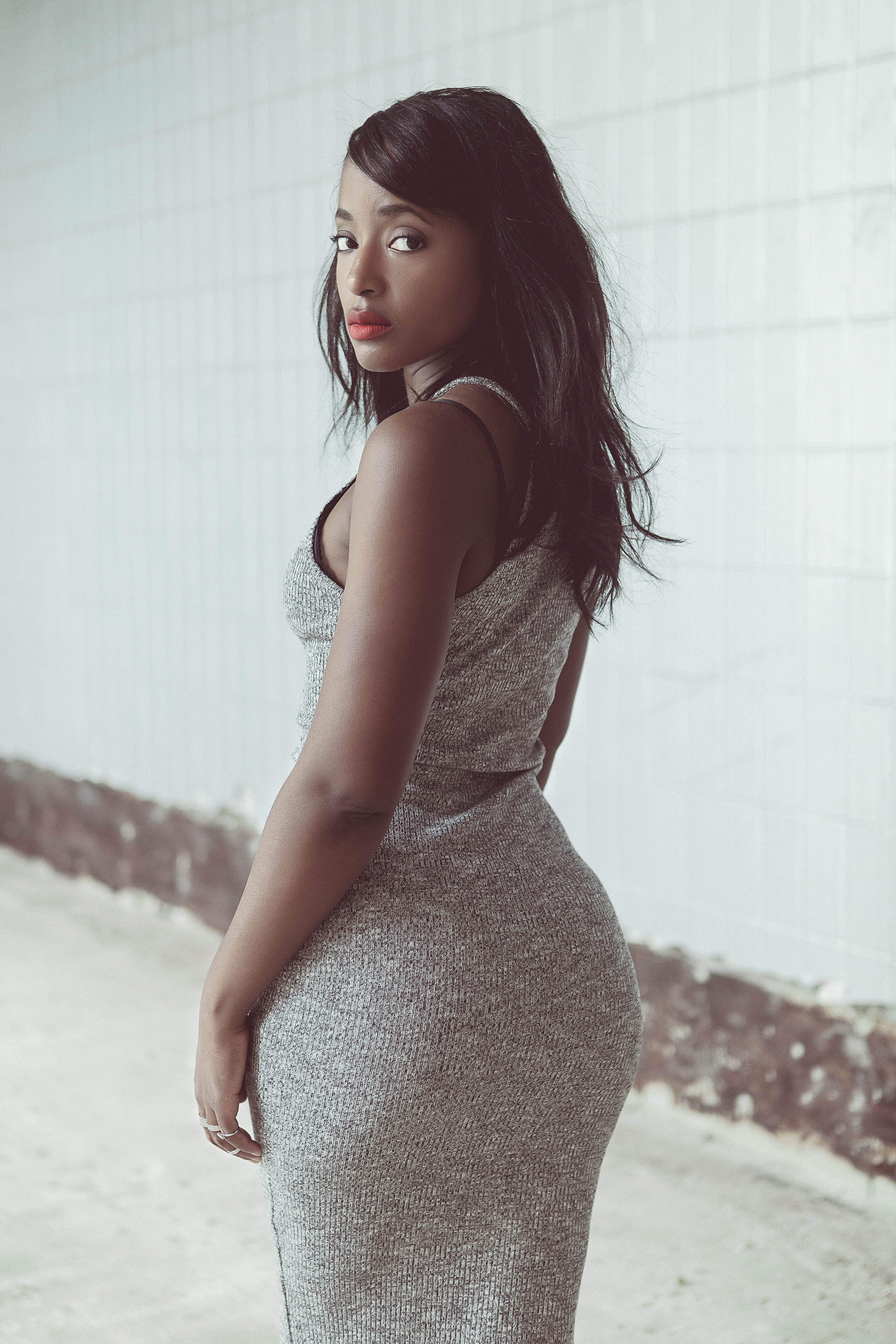 Body confidence. A tough subject.
As far as I can remember, my lower body part as always been a major issue.
Why were my hips this curvy unlike my friends and what I saw in magazines? Why being told "You've got some booty" sounded so negative? Slowly but surely, my body became a frenemy.
An enemy because those damn teenage years were transforming it. It became curvier, far from the androgynous body of the child I used to be. My upper body, on the other hand, remained thin.

Summer days? Nerve-racking.
The trick? A cardigan constantly tied to my hips.
Yeah, I was mad about you gals, you Kate, Claudia, Naomi, Britney. You has such narrow hips and were representing the it-body. Far different from mine.
In the Media, the only girls that looked like me were hip-hop video girls. Great.
In other words, some trashy girls, here to satisfy only men's desires. Songs like "Baby got back" by Sir-Mix-A-lot or "Tip Drill" by St. Lunatics are the sad truth. The beat is good but the words are demeaning.
Nothing in the Media helped me be at peace with my own body.
Still, it was also a friend.
Body issues or not, I was a beast in sports, especially in athletics I was also able to come out of my shell thanks to ballet.
Sports and growing older helped me be distance myself from all that. The reconciliation with my body was on its way. I realized that what was beautiful was not its aspect only but the fact that I could push it to its limits. During those years, I stopped ballet to dedicate myself to fitness; but who cares, I was still surpassing myself. 10kg, 25 kg, 40kg, 65kg, these are the weights my body can easily push or lift. No fear, (almost) no pain.
When I train at home or outdoors, I particularly enjoy Nike Training sessions. Nike Team until the end!
At the gym, I love going to Body Attack and Body Pump classes. But I must admit, that I really got hooked on the Hourglass Workout by Lyzabeth Lopez. This is an effective program (physically and mentally), to create a fit body. Just a few years back, wearing a bodycon dress like this one wouldn't have been possible. Too much emphasis is put on THE area.
What I love about this program is that we work efficiently on all muscle groups. Not just on the glutes like many other programs do. This booty trend, as Vogue was rightly pointing it out, is to blame. Nowadays, everyone wants large and opulent buttocks.
Yes, I admit on this one, I follow some of these Instagram accounts like Squat Exercices, because from time to time I incorporate some of the moves in my fitness routine.
Yes, I admit, I foolishly tried the Squat challenge. But since then, my compliance has stopped.
It seems more like a glorification of a body type at the expense of the other ones. Fuck you if you skinny bitches Nicki Minaj sings in Anaconda!
Many girls who don't look like her hence must have felt terrible.
Many girls try everything that's possible to keep up with the new booty standard. Including shots or killing their knees doing squats.
What was pleasant at first (seeing another body type in the Media), soon became irritating and infuriating, whether you have a big booty or not. Period.
Bootylicious girls are not freaks; but every time we get represented in the Media, it is through some highly sexually-charged female figures.
Awww, but that's probably because Meghan Trainor (All that Bass) wants us to believe we're the type of girls all men want, so we got to flaunt that asset all the time, big time.
It's about time someone tells her she's probably a bit wrong.
My body confidence didn't come for men or thanks to them. I just realized that I had to spend 80 years or so in a body that was determined to stay pear-shaped, so instead of fighting this, I just had to enhance it through fitness and healthy eating habits.
So yes, I like my booty, yes I work hard on my booty at the gym, and yes I like to show it in tight apparel, but not constantly. I don't want to turn my butt into a negative or positive obsession. But on the other hand, I will not hide my body either, because I don't like that butt trend and that it puts some girls in a bad place. I am not the problem. Some media and their one-body-better-than-the-other angle, are.
The secret to salvation comes the moment you distance yourself from all that and understand there are different body types to embrace. Doing some sports and eating healthy are key, but shouldn't be an obsession. So yes you may have that ice cream.
Stop comparing one's body parts to the other people's ones is also key for being better.
Photos: Yasmine Bennis
The look:
Dress: Missguided
Sleeveless jacket: Missguided
Sneakers: Nike Air Max via Def Shop
Necklace: Asos (same here)
Lipstick: Sephora (Always Red)